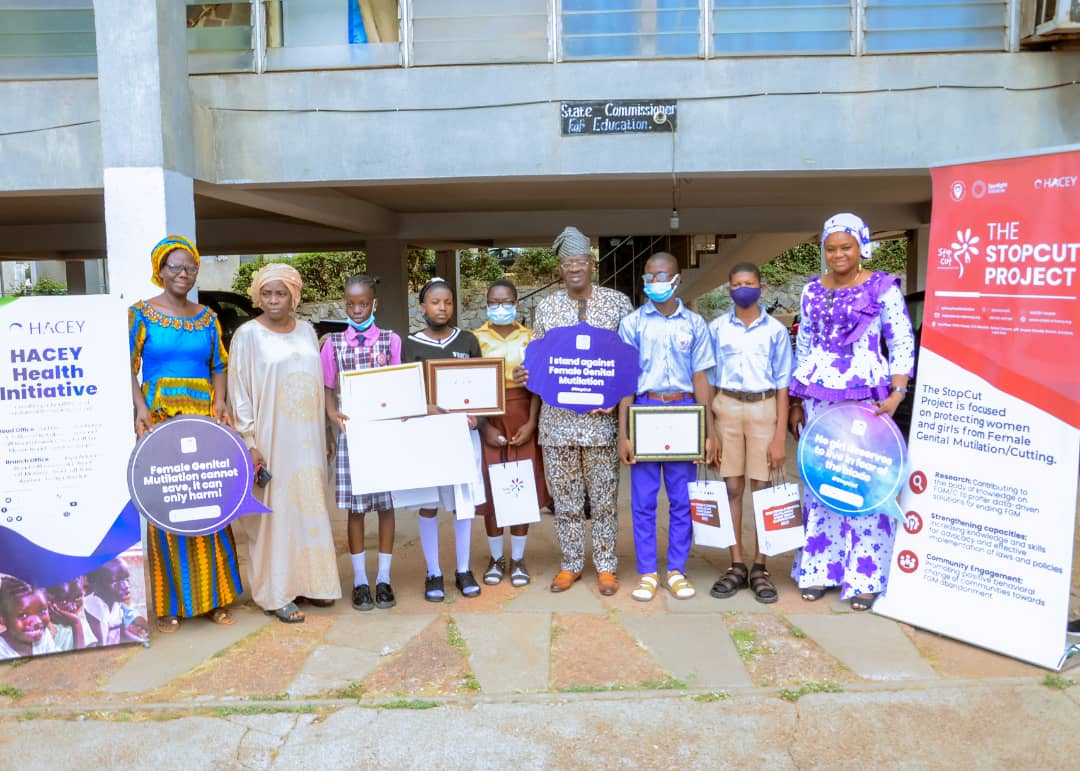 HACEY Awards winners of End Female Genital Mutilation Essay Competition in Oyo State
Female Genital Mutilation (FGM) is a practice that comprises all procedures involving partial or total removal of the external Female Genitalia or other injuries to the Female Genital organs for non-medical reasons. Research carried out show that over 2million women are at risk of being mutilated every day. Now older generations have the idea because it is a traditional practice which older generations understand and HACEY sets out to educate and orientate the coming generation. Hence, the organization via its Stopcut project includes boys and girls in its intervention.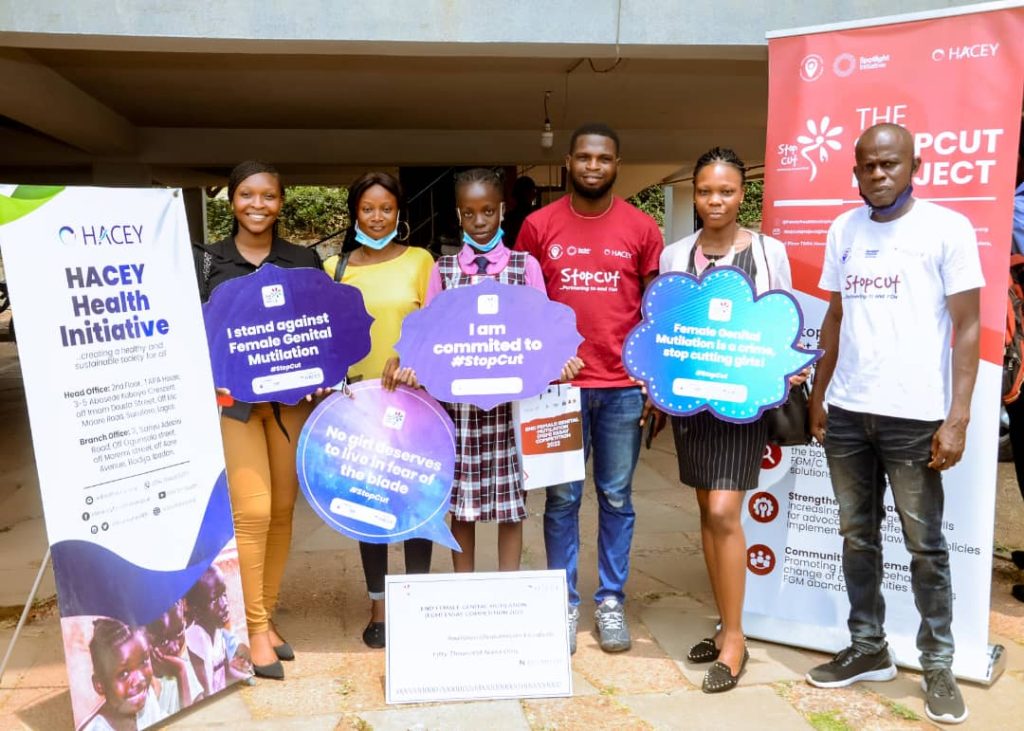 In commemorate the International Day of Zero Tolerance for female genital mutilation 2022, held on February 6, 2022, the leading non government organization; HACEY Health Initiative organized an essay competition call the End Female Genital Mutilation Essay competition in Oyo, Osun and Ekiti states
 Nearly 1000 submissions were received from schools in the three state and 15 winners, five from each states were selected, with Oyo having the overall best. Barr. Rahman Abiodun Abdul-Raheem, Oyo State Commissioner of Education, presented the award to the state's top 5 winners.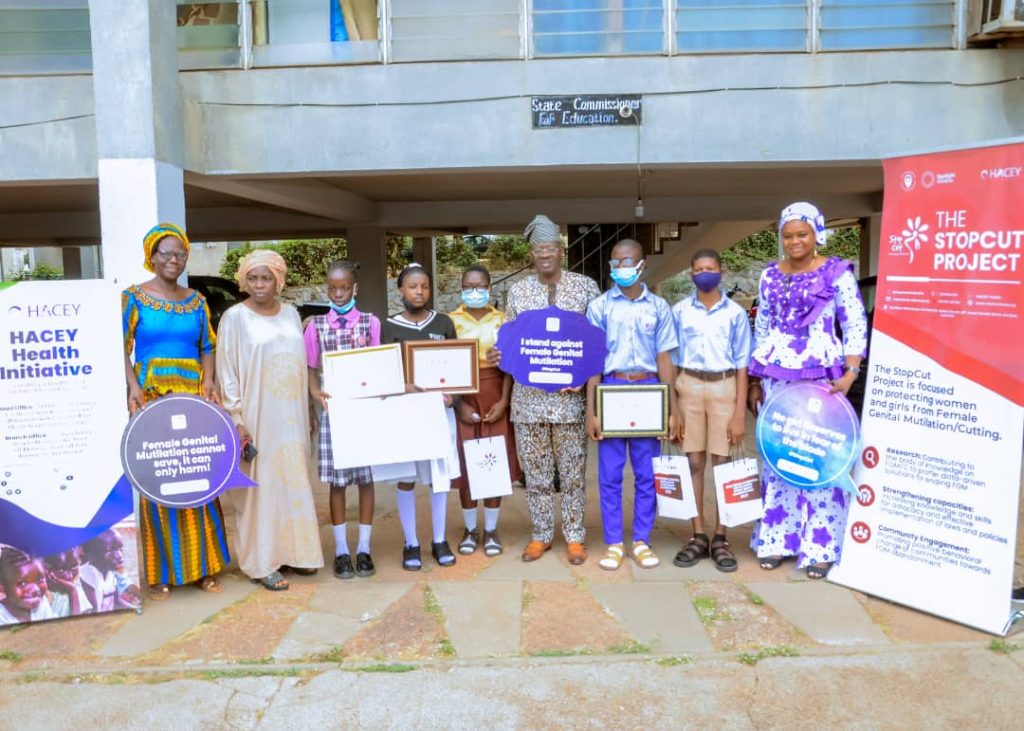 The award ceremony which took place at the Conference Room of the state's Ministry of Education, Science and Technology saw five students from five secondary schools in the Oyo state awarded for their outstanding performance in the essay competition.
Awolowo Oluwanifemi, an 11-year-old student from God's blessing Comprehension college, won the overall best, receiving a brand new laptop and a cash reward of 50,000 naira among other star prizes.
The commissioner conveyed his pleasure at her accomplishments and sent her the Governor's Regards.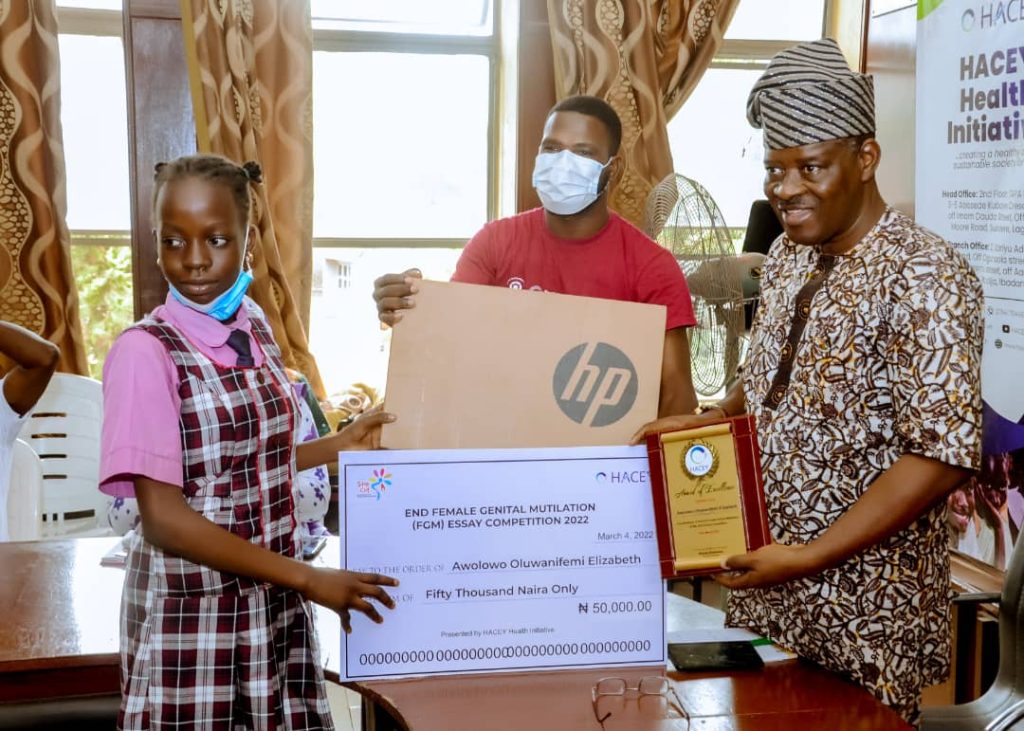 In 2020, HACEY initiated the Stopcut project in 3 states with the highest prevalence of FGM in Nigeria, Oyo, Osun and Ekiti, with the aim to protect women and girls in the state from FGM by creating awareness on existing laws and policies, and promoting their effective implementation. The project also aims to reduce FGM practice through advocacy, capacity building, and research and education strategies in communities.
The project has engaged and trained state and community key stakeholders to advocate for the enforcement of FGM laws and policies, create awareness on FGM and promote increased reporting of FGM Incidents.
HACEY is undoubtedly making a difference in the fight against FGM in Nigeria and is entirely devoted to putting a stop to this act by advocating laws and policies enforcement.
Written By:
Michael Adegboye