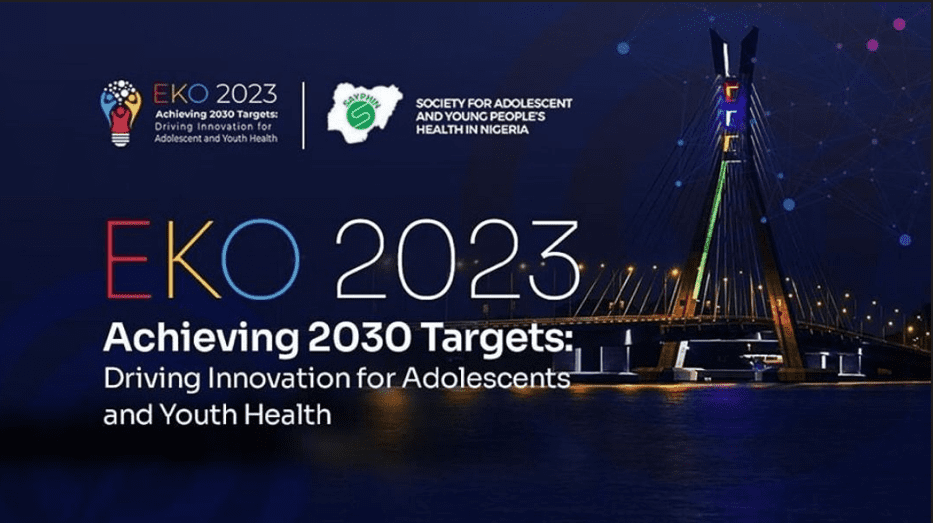 Host a Session at the EKO2023 Conference
The Society for Adolescent and Young People's Health in Nigeria, SAYPHIN will hold the 3rd Nigerian Conference on Adolescent and Youth Health and Development, EKO2023 on 16th – 19th August 2023, in Lagos State, Nigeria. The Conference, holding under the theme: "Achieving 2030 Targets: Driving Innovation for Adolescents and Youth Health", will focus on the road to achieving the shared goal of advancing the health, development, and well-being of adolescents and young people in Nigeria, and youth as drivers of change in the achievement of the sustainable development goals.
Interested organizations and bodies can apply to host a session during the pre-conference and main conference. All sessions will be lives-streamed to virtual participants. Sessions proposed MUST fall under one or more of the below conference subthemes.
Inclusivity, equality, and diversity in adolescent and young people's research and programs
Gender-based Violence and the health and well-being of adolescents and young people
Adolescents and young people in conflict and humanitarian situations
Adolescents and young people, migration and cultural transitions
Climate change and its impact on adolescents and young people's health and development
Adolescents and young people and the sustainable development goals
Electronic media use, digital health, and young people's health and development
Adolescents' mental health and resilience

SESSION TYPES
Plenary Sessions: Plenary sessions bring together all attendees and participants of the conference to explore in depth the thematic focus of the conference. Plenary sessions can be in the form of panels, presentations, broad-ranging debates, or any other format that the organizer prefers to present their focus on conference participants.
Concurrent Sessions: Concurrent sessions are moderated discussions and/or interactive workshops that provide a space for organizers and conference participants to explore in-depth priority issues, exchange knowledge, and learn from expert speakers to enhance their experience and skills in the topic area. Concurrent sessions can be skill-building workshops, panel sessions, knowledge-sharing sessions, film screenings, or any other format that the organizer prefers to engage with conference participants on their chosen issue, in line with the conference priorities.
Session information
Each session comes with audio-visual support

Live on-screen display for maximum coverage

Panel chairs available for panel-style plenary

All sessions will be live-streamed for virtual participation
SESSION FEES

HOW TO APPLY
To apply for a session, send an Expression of Interest with the below content to: [email protected].
Email Subject – EOI: Host A Session
Organization Information
Conference (Pre-conference or main conference)
Type of a session (plenary or concurrent)
Contact person details
Sub-theme(s) of session
Title and a 200-word summary of the session
APPLICATION FOR SESSIONS CLOSE: 14TH JULY 2023

THE SELECTION OF SESSIONS WILL BE ON A ROLLING BASIS. ALL SELECTED APPLICATIONS WILL BE EXPECTED TO CONFIRM ON OR BEFORE 20TH JULY 2023