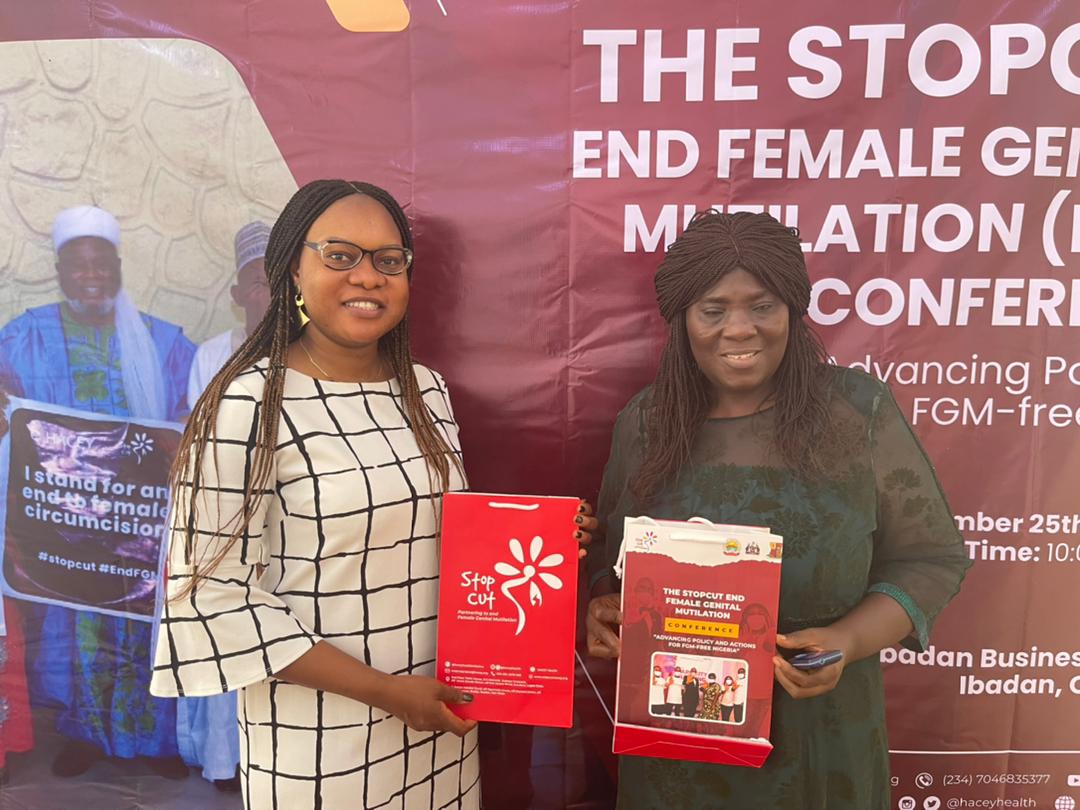 HACEY HEALTH INITIATIVE LAUNCHES FEMALE GENITAL MUTILATION (FGM) REPORT AND VIDEO DOCUMENTARY
To commemorate the United Nations International Day for the Elimination of Violence Against Women observed every November 25th, HACEY Health Initiative, through its StopCut project hosted a conference https://youtu.be/Lqtb2pHq-lk to launch a report on FGM laws, research on the knowledge, prevalence, and contributory factors of FGM alongside a video documentary.
The project launched a report carried out by a team of law firms across Nigeria, Kenya, and Uganda to compare FGM Laws in the states of Ekiti, Osun, and Oyo in Nigeria (the Nigerian FGM/C Laws"), with those of other parts of the country, particularly that of Lagos State and the Federal capital territory, Abuja, being the major commercial cities in Nigeria on one hand and, Kenya and Uganda on the other.
Findings from the report revealed that despite the FGM laws enacted by the states, the practice is still alarmingly high. It also identifies the gaps in the Nigerian FGM Laws and proffers recommendations based on the gaps identified.
Meanwhile, the research launched revealed that over 50 percent of women of child-bearing age in the three project states – Osun (76.8 percent), Oyo (51.8 percent), and Ekiti (52.6 percent), have been mutilated.
It further revealed a 3.3 percent and 10 percent reduction in the prevalence of the practice in Oyo and Ekiti states, compared to the 2016-2017MICS study. However, there was a nine percent increase in the prevalence of FGM in Osun State in comparison. While gains have been made in the reduction of the practice of FGM, the prevalence in the three states remains significant, indicating the need for intensified efforts towards the abandonment of this practice.
HACEY in 2020 initiated the StopCut project in 3 of the states with the highest prevalence of FGM in Nigeria – Ekiti, Osun, and Oyo state, with the aim to protect The research revealed that traditional circumcisers known as 'Oloola' in Yorubaland, healthcare practitioners, and traditional birth attendants have been responsible for the practice to date.
The project through advocacy, capacity building, research, and education strategies in communities engaged and trained state and community key stakeholders to
At least 200 million women and girls in 31 countries around the world are living with the results of the dangerous practice of female genital mutilation (FGM), according to a report by UNFPA, the United Nations Population Fund. The practice is recognized internationally as a violation of the human rights of girls and women.
Most of the 31 countries where FGM is practiced have legislated against it. However, until social norms change, the practice continues in secret. HACEY Health Initiative is educating and empowering communities to end FGM.
The video documentary is a compilation of survivor stories; reporting their experiences, and effects of FGM.
Watch the video documentary here.
Read more about the stopcut project and follow us on social media for updates.
Written by Titilayo Fakeye