HACEY's Annual Report 2021
Health, Advocacy, Empowerment, and Education are HACEY Health Initiative programme focuses. The projects implemented in the year 2021 include Stop Cut, Clean Water Initiative (CWI), Youth Amplify (Sexual and Reproductive Health and Rights Program), Impact Health, Mental Health, Safe Space Program/Media Lab Project, Maternal Health programme, and Advocacies.
Stopcut Project
The UN Trust Fund-funded Stop Cut Project aims to end violence against women by strengthening systems, building partnerships, and mobilising communities to end Female Genital Mutilation/Cutting (FGM/C) in Nigeria. The Project aims to reduce FGM/C practises by 2022 in three Southwest Nigerian states – Ekiti, Osun, and Oyo – by implementing and enforcing FGM/C policies and laws, building capacity, advocating, and engaging the community. The Project was launched in Osun State in February 2020 at a conference to commemorate International Day of Zero Tolerance for Female Genital Mutilation. Her Imperial Majesty, Queen Naomi Silekunola Ogunwusi, was the keynote/mother of the day.
The StopCut Project hosted 2 conferences in 2021 that brought together high-level representatives from Ministries, NGOs, Media Houses, Research institutions, Academia, and other key stakeholders to discuss current progress in ending FGM, available opportunities, and required strategies to end FGM by 2030.
Clean Water Poject
Every day, millions of people walk hours to collect dirty water, wasting time and resources. Others live in places with plenty of water, but it's often unsafe and carries diseases that can sicken entire families. We can end the water crisis with community support.
Clean Water Initiative project aims to improve water, sanitation, and hygiene practises in PHCs and schools to improve women and children's health. The 2021 Project impacted Delta, Imo, and Ondo.
Youth Amplified Project
The Youth Amplify project aims to increase sexual and reproductive health (SRH) awareness and use among tertiary students in Ekiti, Ondo, Osun, Oyo, and Lagos, Nigeria. The Project used digital media, especially social media, to raise awareness about sexual and reproductive health and rights among young people and inform them about available sexual and reproductive health services in each state. Amplify Change UK funded it and included sexual health, sexual rights, reproductive health, and reproductive rights.
For 2021 World AIDS Day, the Project conducted 3 days of community HIV testing and counselling, reaching 2000 people in Lagos, Osun, Ondo, Oyo, and Ekiti States.
Impact Health Project
Nigeria's maternal mortality rate of 814 deaths per 100,000 live births is among the world's highest. Nigeria has high maternal and newborn mortality rates. Therefore, it's important for health care providers, especially at the grassroots level, to use digital gadgets to improve service delivery and reduce maternal and infant mortality.
Our Impact Health Project is a digital health intervention designed to improve the performance and service delivery of primary health care providers in Nigeria. IPRD Group, New York, and Argusoft support the project.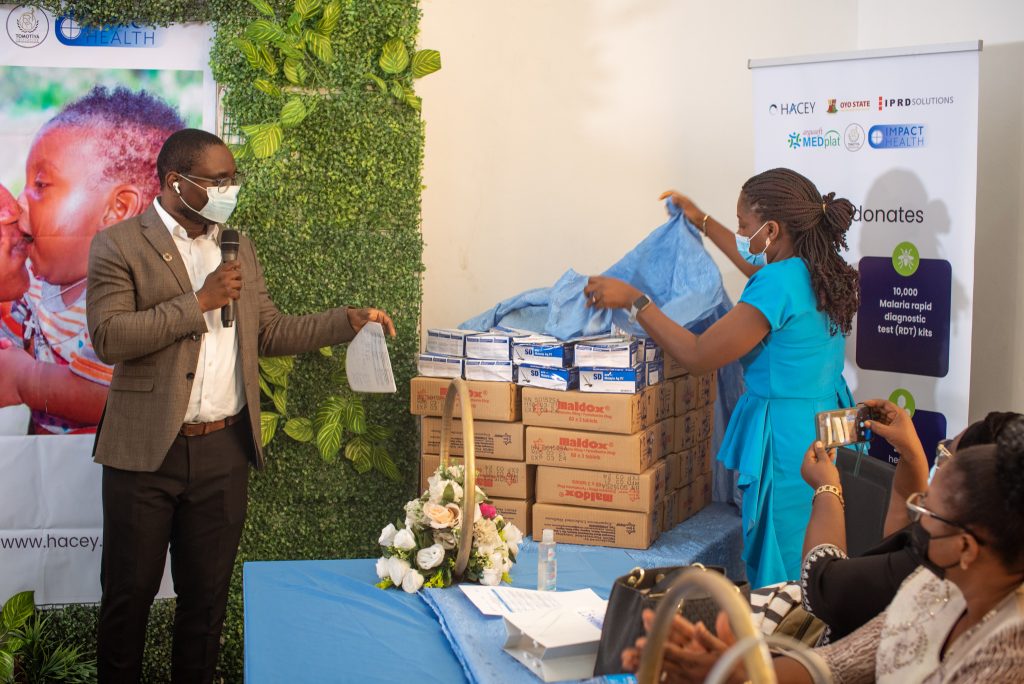 Mental Health
Mental health disorders burden families, workplaces, communities, and the economy. WHO says 450 million people have mental or behavioural disorders. Our Mental Health and Productivity programme helps young people by raising awareness of mental health issues and services. The Project aimed to improve access to mental health services and information in schools, workplaces, and communities in Lagos, Ondo, Kaduna, Abuja, Taraba, and Ebonyi states.
Safe Space
The Safe Space programme empowers and values young people. It's a HACEY Girl Advisory Board project. The Board is a committee of young Nigerian girls who work with the organisation to develop girl-centered solutions to rising issues in our communities and advocate for girl-child programmes to improve girls' access to education and health information. The programme teaches 13-19-year-old girls about leadership, careers, sexual and reproductive health, and other girl-centered issues.
Nigeria has one of the highest annual maternal death estimates. Lack of health information, poor health-seeking behaviour, and under-equipped health centres caused the deaths, especially in rural and underserved areas. Our Maternal Health project aims to build Community Birth Attendants' (CBAs) capacity to produce hygiene materials to reduce costs and increase knowledge and practise of preventive guidelines while providing maternal health services. Ishk Tolaram sponsors the Ogun project.
Obstetric fistula
About 13,000 cases of obstetric fistula occur in Nigeria. Obstetric fistula is linked to obstructed labour, a leading cause of maternal mortality. Obstetric fistula causes incontinence, shame, social isolation, and health issues. Obstetric fistula mostly affects females. The birth canal is holed. This project educated women on obstetric fistula and its prevention in Oyo, Delta, and Ebonyi.
Sexual violence in conflict
This project aims to end sexual violence in conflicts by educating women in IDP camps and communities. The programme was implemented in Lagos, Edo, and Abuja to discuss sexual violence, inform the audience about the VAAP Act, and assure them of justice if needed.
Women's Health and Action Research Centre (WHARC) Project
Health and social care were challenged by the COVID-19 pandemic. HACEY Health Initiative subcontracted WHARC's project. The Project was implemented in three (3) communities (Akowonjo, Okunola, and Orisumb) in Alimosho Local government and three (3) communities (Badore, Ajah, and Shongotedo) in EtiOsa Local government in Lagos State to respond to COVID-19 and Sexual and Reproductive Health and Rights (SRHR) and Gender-based Violence (GBV) within the communities.
End Malaria project
Malaria threatens 40% of the world's population. A decade ago, 247 million malaria cases caused nearly a million deaths, and most of the deaths were among children under five who, along with pregnant women, are particularly vulnerable to this disease. End Malaria raised awareness about Malaria. The project aimed to reach 100 million people in Nigeria's endemic states.
Drug Abuse
According to the National Drug Use Survey, 14.3 million Nigerians use drugs, and 3 million have a drug use disorder. The Drug abuse project educates teens about drug abuse. Access Bank supports the project in Lagos, Ebonyi, and Edo.
16-day activism
One in three women has experienced physical or sexual violence, usually by a friend. Gender-Based Violence (GBV) is underreported due to a culture of silence, stigma, and lack of resources and support. GBV trauma can cause isolation, anxiety, depression, PTSD, and suicidal thoughts in survivors.
Economic setbacks affect women's ability to care for their families. ROWAA supports rural women and widows economically. HACEY provides technical support to ROWAA Foundation every quarter to implement the ROWAA widows' outreach.
Women and girls' health and productivity depend on eliminating gender inequities that limit their potential. Women and girls are a disadvantaged population globally because they face greater health and safety risks, fewer economic opportunities, less access to basic and higher education, and less political representation. HACEY organised activities to engage and educate the girl child based on the 2021 theme "Digital generation."
A 1-DAY physical event was held for volunteers who helped the organisation grow. The celebration featured educational and fun activities such as HACEY education, volunteer identification, awarding outstanding volunteers, and games.
HACEY turned 14 on October 17, and we celebrate every year. To mark the occasion, a video of staff members talking about the organisation was uploaded across all channels.
HACEY Health Initiative thanks our partners for helping us restore hope and dignity to oppressed and poor people. Our donors' commitment enables us to help communities quickly, whether they are individuals, foundations, corporations, volunteers, governments, NGOs, or multilateral agencies. 4. Partnerships for Impact Access Bank Plc, Lafarge, IPRD solutions, US Government in Nigeria, ACT Foundation, Australia Government in Nigeria, Stars Foundation, UK, GBC Health, New York, UNFPA, Path USA, Empower UK, Amplify UK, Nigerian government, and other private sector partners.