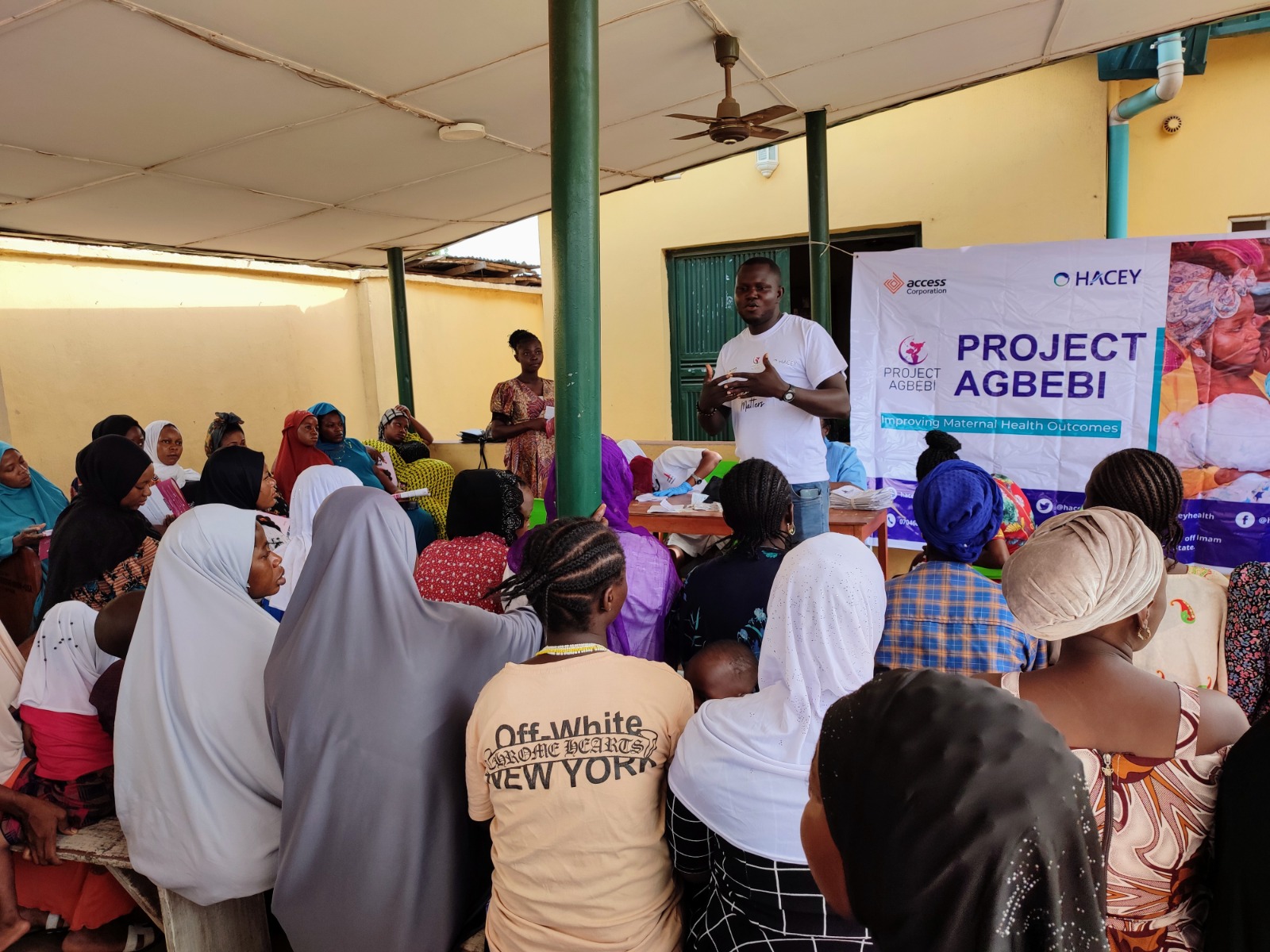 Reducing Maternal Mortality in Nigeria: Insights from Project Agbebi's Multi-Faceted Approach
Nigeria has been grappling with the daunting challenge of maternal health, as it continues to have one of the highest maternal mortality rates worldwide. Sadly, the World Health Organization (WHO) reported that the nation recorded an estimated maternal mortality ratio of 512 deaths per 100,000 live births in 2017, resulting in the demise of about 58,000 Nigerian women yearly due to pregnancy and childbirth complications.
This high rate of maternal mortality in Nigeria can be attributed to several factors such as insufficient access to quality healthcare, limited education on maternal health, cultural practices that discourage women from seeking medical care, poverty, inadequate infrastructures, weak health systems, and many more.
In a bid to abate these challenging concerns and improve maternal health outcomes in Nigeria, HACEY introduced Project Agbebi, a multi-faceted initiative aimed at addressing maternal health issues. Project Agbebi strives to improve access to quality healthcare by strengthening healthcare professionals' capacity, educating women on maternal health, providing training for healthcare workers, and addressing cultural barriers that hinder women from seeking maternal health care.
The project has recorded some encouraging milestones, including a medical outreach and training for expectant mothers across 30 communities in Osun, Ogun, and Oyo states, where beneficiaries expressed immense gratitude for the lessons learned and support received. Over 3000 birthing kits have been distributed to beneficiaries of the project. Some of who have been very grateful and shared their touching experiences and various insights regarding maternal health care. here's what some of the beneficiaries had to say;
"Thanks to the excellent care I received from my healthcare provider during my pregnancy, I was able to deliver a healthy baby. I am grateful for the attention and support I received throughout my pregnancy, which made all the difference in ensuring a positive outcome." – Sarah, mother of one.
"Honestly, I did not know I have been missing out by not coming to ANC at the health facility. In my family, we prefer to go to the traditional birth attendants to give birth but my friend told me that their community leader said they must come to the clinic because there is something for them, so I decided to follow her. I have learnt a lot from the training sessions and thank you for the birthing kits, I'm very grateful,"-Aminat Ahmed from Oyo state.
"I did not plan to come for the program before because my body was aching and I just wanted to sleep, then go to the market to get some of the things I'd be needing for the delivery. But one of the elders in our community encouraged everyone to come. Thank God I came, because the training was very insightful and I am glad I don't have to buy marking tosh again, I can use the money to get something else,"-Iyabo Agboola, Oyo State.
"Today, I got to know I can open an account for my kids (babies for that matter) and nothing will happen to their money. These are some of the insights I gathered from the training sessions and other key maternal information,"-Ganiyu Nafisat, Osun state.
"I am happy I attended today's antenatal. The teaching was fun and I want to say a big thank you to the NGO and access bank for making today happen for us. I like the financial part where we are taught how to save for ourselves and the baby and not focus on things that don't matter because we want to impress our neighbors. I also want to say thank you for the birthing kit,"-Folake Enochi from Ogun state.
Access Corporation's investment in Project Agbebi serves as a model for other private sector organizations to follow, especially in areas where the government's capacity to address critical social issues is limited. Collaborative efforts between the public and private sectors are essential to achieving sustainable development and improving the well-being of communities in Nigeria.
Overall, the comprehensive efforts of Project Agbebi's initiative are expected to mitigate the maternal mortality scourge in Nigeria. Achieving this feat will require the various stakeholders' collaboration, including the government, healthcare providers, and community leaders, working collaboratively to provide long-lasting solutions that would improve maternal health outcomes in Nigeria.